This post was originally published on *http://labs.dropit.se/blogs.*
As an early adopter of everything new (meaning if it isn't beta it is not worth installing), I recently installed Windows 7 RC on my laptop, and yesterday I also installed Windows XP Mode, or XPM. XPM is basically an extension of Virtual PC, and a new Virtual PC beta version, that allows you to run XP applications outside of the virtual machine, just like normal applications.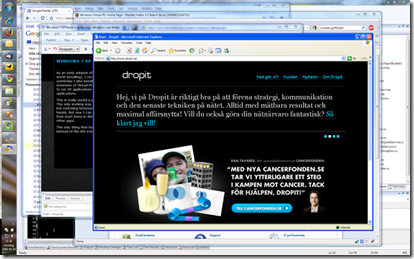 This is really useful e.g. for testing things in IE6, or older versions of Firefox. The only working way of running IE6 on Vista or Win7 is in a virtual machine, but switching between the virtual machine and your normal environment is a hassle. But now I can just start "Internet Explorer (Virtual Windows XP)" from start menu in Windows 7, and get an XP/IE6 window right beside my other apps.
The only thing that bugs me is that the taskbar icon shows a virtual pc icon instead of the IE6 icon.